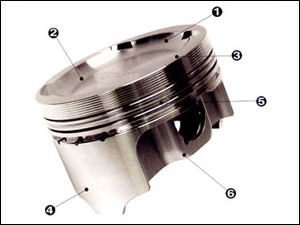 JE Piston kits

JE have manufactured pistons for over 60 years and are wellknown around the world for their high quality.

Features of JE pistons:

1: Valve Pocket designs that allow max flow around valve, also allowing oversized valves and high lift cams to be utilized.

2: Piston crown shapes designed to promote max intake charge efficiency and thus maximum power.

3: Pistons designed to optimize squish during compression cycle event, resulting in resistance to detonation. The end product is longer engine life and increased horsepower potential.

4: Complex piston skirt profiles that reduce power robbing friction, yet promoting stability in bore for optimum ring seal. Often coated to many models.

5: Precision machined ring grooves with proper orifice/accumulator volume for maximum ring seal and minimium leakage.

6: Material of finest quality and forged for best durability.

All kits include rings, pins and locks.

Custom pistons are manufactured on request. Call/Email us for more info!
Piston kit
Prodnr:

JE-PEU-EP6DT-01



207/308

Prince EP6DT/DTS

77mm, 9,3:1

Price: On request


Piston kit
Prodnr:

JE-PEU-EP6DT-02



207/308

Prince EP6DT/DTS

77,25mm, 9,3:1

Price: On request


Piston kit
Prodnr:

JE-PEU-EP6DT-03



207/308

Prince EP6DT/DTS

77,5mm, 9,3:1

Price: On request