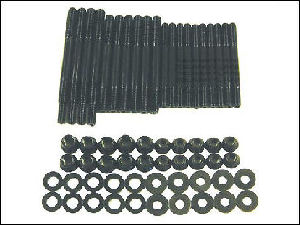 ARP Head studs

Todays engines often use high comp pistons or high boost which demands optimum sealing between the cylinder head and the block.

ARP uses 8740 chrome moly steel that is rated far superior to 'aircraft' quality. Each stud is precisely heat-treated to a nominal tensile strength of 14.000km/cm². The stud is then given ten slight cuts which results in an exceptionally straight part. Lesser quality studs are not even centerless ground – the material is thread rolled in bar stock form, usually prior to heat-treatment.

ARP studs are thread rolled after heat-treat, which gives them about 1000% better fatigue strength than those studs that are threaded prior to heat-treatment.

The Undercut studs equalizes the stretch, which makes for a more consistent clamping force. These studs are only avaliable for selected applications.
Head stud kit
Prodnr:

102-4701



200SX/Sunny: 91-99

2.0l 4cyl 16v

SR20DET

M11, U/C

Price: 2115 SEK


Head stud kit
Prodnr:

202-4201



Datsun

2.0l 4cyl 8v

L20

Price: 1490 SEK


Head stud kit
Prodnr:

202-4202



Cherry/Sunny: 74-81

1.2l 4cyl 8v

A12

Price: 1370 SEK


Head stud kit
Prodnr:

202-4203



Cherry/Sunny: 79-81

1.4l 4cyl 8v

A14

Price: 1365 SEK


Head stud kit
Prodnr:

202-4206



Datsun/Laurel: 70-84

2.4-2.8l 6cyl 12v

L24, L26, L28

Price: 2015 SEK


Head stud kit
Prodnr:

202-4207



Skyline: 89-02

2.6l 6cyl 24v

RB26DETT

Price: 3040 SEK


Head stud kit
Prodnr:

202-4301



Laurel/Skyline

2.0/2.5l 6cyl 12/24v

RB20, RB20DET, RB25, RB25DET

Price: 1930 SEK


Head stud kit
Prodnr:

202-4303



200SX/Sunny: 91-99

2.0l 4cyl 16v

SR20DET

M12

Price: 1840 SEK


Head stud kit
Prodnr:

202-4701



350Z/Maxima/Skyline: 01-

3.0/3.5l 6cyl 24v

VQ30, VQ35

Price: 2570 SEK


Head stud kit
Prodnr:

202-4702



200SX/Bluebird/Sunny/ZX 180: -93

1.6-1.8l 4cyl 16v

CA16DE, CA16DET, CA18DE, CA18DET

Price: 1635 SEK