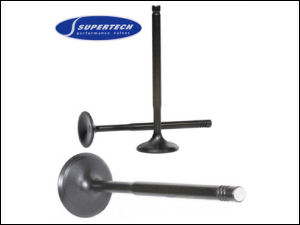 Supertech valves

As a manufacturer of valves and accessories for over 20 years, Supertech is using this experience together with FEA analysis, to develop the best products on the market.

The valves are tested in very close collaboration with different engine builders to continually improve and develop the best for each individual application. High flow rates, durability and quality are of great concern.

The materials used are Stainless Steel, Nimonic, Inconel, Titanium, etc. There are different alloys, heat treatments and coatings for various applications.


Stainless Steel
Made as a one piece forged valve for higher strength and reliability. Normally used are EV8 (21-4N) for intake and exhaust, but other alloys are used with different hardening treatments. Two different type of coatings are mainly used:

Chrome
Is a metallic element which forms an oxide layer that protects the rest of the metal. This is used for most of the valves to make the steel hard, reduce friction and increase durability. Only applied to the valve steam.

Black Nitride
This is a hardening treatment who is relatively unknown, but recently has become more popular. It provides higher surface hardness, wear resistance and greater fatigue resistance to the stainless steel alloy. The surface is smoother than the chrome, and having less friction between the steam and guide. The nitride layer is performed on the entire valve compared with chrome, which only applies to the valve steam.

Inconel 751
This nickel-based material is used for exhaust valves in engines that reach very high temperatures, and its use is growing with the application of turbos and superchargers. A must for extreme turbo buildings with high boost pressure and exhaust temperatures.
Keeper
Prodnr:

MK-6H



3-groove, 6mm

Price: 12 SEK excl. VAT


Keepers
Prodnr:

KPR-6S/7



1-groove, 6mm

Price: 28 SEK excl. VAT


Valve kit, Exhaust
Prodnr:

GEVI-0012S-8



30.6x5.96x101.3mm

Inconel, 1-groove

Price: 3412 SEK excl. VAT


Valve kit, Exhaust
Prodnr:

GEVN-0010-8



30.1x5.96x101.3mm

Stainless, 3-groove

Price: 2352 SEK excl. VAT


Valve kit, Intake
Prodnr:

GIVN-0010-8



35.1x5.97x102.05mm

Stainless, 3-groove

Price: 2352 SEK excl. VAT


Valve kit, Intake
Prodnr:

GIVN-0012S-8



35.6x5.97x102.05mm

Stainless, 1-groove

Price: 2352 SEK excl. VAT