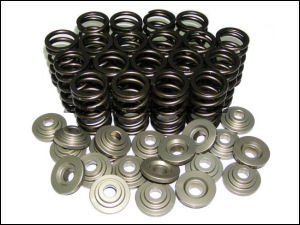 Catcams Valve Springs

High rpm's and rapid valve lifts put the quality on the valve springs to the test. PAC Racing manufactures valve springs for Catcams, especially made for tuned engines and Motorsport.

These springs fit many brands and models. If you don't know what spring measures you need, and thus which springs that suit your engine, you can get that information through Catcams webpage. Click the link below:

www.catcams.com

Choose -camshafts then your cars brand and engine in the menu to the left.


Well inside amongst the camshafts you click a partnr. Ex: 1002100. Now can you either see which parts that fits below the text REQUIRED PARTS or you can click the link # ! [link] spring info for ...
(if such link exist)

When you have found which springs that suits, you can find prices and order by the products below.

Gold = special springs for really high rpm's.

If anything is diffuse or if you need help to find correct springs, don't hesitate to contact us!
Valve spring, dual
Prodnr:

PAC-D12009



OD: 28,6mm, ID: 16,3mm, L: 40,8mm

Gold

Regular price: 235 SEK
Price: 215 SEK

Valve spring, dual
Prodnr:

PAC-D15009



OD: 30,7mm, ID: 17,5mm, L: 43,6mm

Gold

Regular price: 235 SEK
Price: 215 SEK

Valve spring, dual
Prodnr:

PAC-D19859



OD: 32,2mm, ID: 18,2mm, L: 41mm

Gold

Regular price: 235 SEK
Price: 215 SEK

Valve spring, dual
Prodnr:

PAC-D19862



OD: 25,4mm, ID: 13,2mm, L: 42,3mm

Gold

Regular price: 235 SEK
Price: 215 SEK

Valve spring, dual
Prodnr:

PAC-D19864



OD: 24,8mm, ID: 13,6mm, L: 41,3mm

Gold

Regular price: 235 SEK
Price: 215 SEK

Valve spring, dual
Prodnr:

PAC-D19865



OD: 23,3mm, ID: 13,1mm, L: 42,2mm

Gold

Regular price: 235 SEK
Price: 215 SEK

Valve spring, dual
Prodnr:

PAC-D19891



OD: 30,9mm, ID: 16,5mm, L: 49,3mm

Gold

Regular price: 235 SEK
Price: 215 SEK

Valve spring, dual
Prodnr:

PAC-D29891



OD: 30,9mm, ID: 16,5mm, L: 49,3mm

Double Gold

Regular price: 350 SEK
Price: 325 SEK

Valve spring, dual
Prodnr:

PAC-D92009



OD: 28,6mm, ID: 16,3mm, L: 40,8mm

Regular price: 175 SEK
Price: 165 SEK

Valve spring, dual
Prodnr:

PAC-D95009



OD: 30,7mm, ID: 17,5mm, L: 43,6mm

Regular price: 175 SEK
Price: 165 SEK

Valve spring, dual
Prodnr:

PAC-D99859



OD: 32,2mm, ID: 18,2mm, L: 41mm

Regular price: 175 SEK
Price: 165 SEK

Valve spring, dual
Prodnr:

PAC-D99860



OD: 30,4mm, ID: 15,9mm, L: 38,7mm

Regular price: 175 SEK
Price: 165 SEK

Valve spring, dual
Prodnr:

PAC-D99861



OD: 29,4mm, ID: 16,3mm, L: 36,8mm

Regular price: 175 SEK
Price: 165 SEK

Valve spring, dual
Prodnr:

PAC-D99862



OD: 25,4mm, ID: 13,2mm, L: 42,3mm

Regular price: 175 SEK
Price: 165 SEK

Valve spring, dual
Prodnr:

PAC-D99864



OD: 24,8mm, ID: 13,6mm, L: 41,3mm

Regular price: 175 SEK
Price: 165 SEK

Valve spring, dual
Prodnr:

PAC-D99865



OD: 23,3mm, ID: 13,1mm, L: 42,2mm

Regular price: 175 SEK
Price: 165 SEK

Valve spring, dual
Prodnr:

PAC-D99891



OD: 30,9mm, ID: 16,5mm, L: 49,3mm

Regular price: 175 SEK
Price: 165 SEK

Valve spring, inner
Prodnr:

PAC-I12009



OD: 21,3mm, ID: 16,3mm, L: 40,7mm

Gold

Regular price: 130 SEK
Price: 120 SEK

Valve spring, inner
Prodnr:

PAC-I15009



OD: 23,2mm, ID: 17,5mm, L: 39,2mm

Gold

Regular price: 130 SEK
Price: 120 SEK

Valve spring, inner
Prodnr:

PAC-I19859



OD: 24,2mm, ID: 18,2mm, L: 38,9mm

Gold

Regular price: 130 SEK
Price: 120 SEK

Valve spring, inner
Prodnr:

PAC-I19862



YD: 18,2mm, ID: 13,2mm, L: 39,2mm

Gold

Regular price: 130 SEK
Price: 120 SEK

Valve spring, inner
Prodnr:

PAC-I19864



OD: 18,2mm, ID: 13,6mm, L: 37,7mm

Gold

Regular price: 130 SEK
Price: 120 SEK

Valve spring, inner
Prodnr:

PAC-I19865



OD: 17,5mm, ID: 13,1mm, L: 35,8mm

Gold

Regular price: 130 SEK
Price: 120 SEK

Valve spring, inner
Prodnr:

PAC-I19891



OD: 22,2mm, ID: 16,5mm, L: 49mm

Gold

Regular price: 130 SEK
Price: 120 SEK

Valve spring, inner
Prodnr:

PAC-I29891



OD: 22,2mm, ID: 16,5mm, L: 49mm

Double Gold

Regular price: 185 SEK
Price: 175 SEK

Valve spring, inner
Prodnr:

PAC-I92009



OD: 21,3mm, ID: 16,3mm, L: 40,7mm

Regular price: 105 SEK
Price: 100 SEK

Valve spring, inner
Prodnr:

PAC-I95009



OD: 23,2mm, ID: 17,5mm, L: 39,2mm

Regular price: 105 SEK
Price: 100 SEK

Valve spring, inner
Prodnr:

PAC-I99859



OD: 24,2mm, ID: 18,2mm, L: 38,9mm

Regular price: 105 SEK
Price: 100 SEK

Valve spring, inner
Prodnr:

PAC-I99860



OD: 20,9mm, ID: 15,9mm, L: 34,7mm

Regular price: 105 SEK
Price: 100 SEK

Valve spring, inner
Prodnr:

PAC-I99861



OD: 21,3mm, ID: 16,3mm, L: 33,4mm

Regular price: 105 SEK
Price: 100 SEK

Valve spring, inner
Prodnr:

PAC-I99862



OD: 18,2mm, ID: 13,2mm, L: 39,2mm

Regular price: 105 SEK
Price: 100 SEK

Valve spring, inner
Prodnr:

PAC-I99864



OD: 18,2mm, ID: 13,6mm, L: 37,7mm

Regular price: 105 SEK
Price: 100 SEK

Valve spring, inner
Prodnr:

PAC-I99865



OD: 17,5mm, ID: 13,1mm, L: 35,8mm

Regular price: 105 SEK
Price: 100 SEK

Valve spring, inner
Prodnr:

PAC-I99891



OD: 22,2mm, ID: 16,5mm, L: 49mm

Regular price: 105 SEK
Price: 100 SEK

Valve spring, outer
Prodnr:

PAC-E12009



OD: 28,6mm, ID: 16,3mm, L: 40,8mm

Gold

Regular price: 130 SEK
Price: 120 SEK

Valve spring, outer
Prodnr:

PAC-E15009



OD: 30,7mm, ID: 23,2mm, L: 43,6mm

Gold

Regular price: 130 SEK
Price: 120 SEK

Valve spring, outer
Prodnr:

PAC-E19859



YD: 32,2mm, ID: 24,7mm, L: 41mm

Gold

Regular price: 130 SEK
Price: 120 SEK

Valve spring, outer
Prodnr:

PAC-E19862



YD: 25,4mm, ID: 18,2mm, L: 42,3mm

Gold

Regular price: 130 SEK
Price: 120 SEK

Valve spring, outer
Prodnr:

PAC-E19864



OD: 24,8mm, ID: 18,2mm, L: 41,3mm

Gold

Regular price: 130 SEK
Price: 120 SEK

Valve spring, outer
Prodnr:

PAC-E19865



OD: 23,3mm, ID: 17,5mm, L: 42,2mm

Gold

Regular price: 130 SEK
Price: 120 SEK

Valve spring, outer
Prodnr:

PAC-E19891



OD: 30,9mm, ID: 23mm, L: 49,3mm

Gold

Regular price: 130 SEK
Price: 120 SEK

Valve spring, outer
Prodnr:

PAC-E29891



OD: 30,9mm, ID: 23mm, L: 49,3mm

Double Gold

Regular price: 185 SEK
Price: 175 SEK

Valve spring, outer
Prodnr:

PAC-E92009



OD: 28,6mm, ID: 16,3mm, L: 40,8mm

Regular price: 105 SEK
Price: 100 SEK

Valve spring, outer
Prodnr:

PAC-E95009



OD: 30,7mm, ID: 23,2mm, L: 43,6mm

Regular price: 105 SEK
Price: 100 SEK

Valve spring, outer
Prodnr:

PAC-E99859



OD: 32,2mm, ID: 24,7mm, L: 41mm

Regular price: 105 SEK
Price: 100 SEK

Valve spring, outer
Prodnr:

PAC-E99860



OD: 30,4mm, ID: 22,9mm, L: 38,7mm

Regular price: 105 SEK
Price: 100 SEK

Valve spring, outer
Prodnr:

PAC-E99861



OD: 29,4mm, ID: 21,9mm, L: 36,8mm

Regular price: 105 SEK
Price: 100 SEK

Valve spring, outer
Prodnr:

PAC-E99862



OD: 25,4mm, ID: 18,2mm, L: 42,3mm

Regular price: 105 SEK
Price: 100 SEK

Valve spring, outer
Prodnr:

PAC-E99864



OD: 24,8mm, ID: 18,2mm, L: 41,3mm

Regular price: 105 SEK
Price: 100 SEK

Valve spring, outer
Prodnr:

PAC-E99865



OD: 23,3mm, ID: 17,5mm, L: 42,2mm

Regular price: 105 SEK
Price: 100 SEK

Valve spring, outer
Prodnr:

PAC-E99891



OD: 30,9mm, ID: 23mm, L: 49,3mm

Regular price: 105 SEK
Price: 100 SEK

Valve spring, single
Prodnr:

PAC-S10011



OD: 28,4mm, ID: 20,2mm, L: 44,7mm

Gold

Regular price: 130 SEK
Price: 120 SEK

Valve spring, single
Prodnr:

PAC-S10015



OD: 25,4mm, ID: 18,2mm, L: 46,2mm

Gold

Regular price: 130 SEK
Price: 120 SEK

Valve spring, single
Prodnr:

PAC-S19843



OD: 30,1mm, ID: 22,2mm, L: 44,7mm

Gold

Regular price: 130 SEK
Price: 120 SEK

Valve spring, single
Prodnr:

PAC-S90006



OD: 34,2mm, ID: 25,2mm, L: 49,5mm

Regular price: 130 SEK
Price: 120 SEK

Valve spring, single
Prodnr:

PAC-S90007



OD: 38mm, ID: 29mm, L: 47mm

Regular price: 130 SEK
Price: 120 SEK

Valve spring, single
Prodnr:

PAC-S90010



OD: 29,1mm, ID: 21,2mm, L: 44mm

Regular price: 105 SEK
Price: 100 SEK

Valve spring, single
Prodnr:

PAC-S90013



OD: 21mm, ID: 14,5mm, L: 40,1mm

Regular price: 105 SEK
Price: 100 SEK

Valve spring, single
Prodnr:

PAC-S90015



OD: 25,4mm, ID: 18,2mm, L: 46,2mm

Regular price: 105 SEK
Price: 100 SEK

Valve spring, single
Prodnr:

PAC-S90019



OD: 27,7mm, ID: 20,2mm, L: 44mm

Regular price: 105 SEK
Price: 100 SEK

Valve spring, single
Prodnr:

PAC-S99843



OD: 30,1mm, ID: 22,2mm, L: 44,7mm

Regular price: 105 SEK
Price: 100 SEK