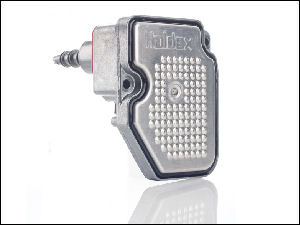 Haldex Controller

With these performance boxes you get increased torque transfer to the rear at accelerations which gives a more consistent behaviour and more oversteered handling.

The new software also gives a faster torque transfer respond as a function of how fast the driver pushes the throttle pedal. Haldex system prepares to transfer torque before actual torque is delivered from engine to the driveline.

At higher speeds the torque will decrease which gives less oversteering and safer handling.

All safety features works as in the original software, for example during ABS braking or an ESP intervention the coupling will stop transferring torque to avoid interference with the safety systems.

All boxes are Plug & Play and are delivered with instructions and accessories for an easy installation.

Boxes listed as non-stock items have a delivery time of around a week.
Haldex unit
Prodnr:

106007



Gen 1

A3/S3/TT/Leon/Octavia/Golf: 98-06

Price: On request


Haldex unit
Prodnr:

108888



Gen 2

A3/S3/TT/Octavia/Golf/Passat: 04-08

Price: 9325 SEK


Haldex unit
Prodnr:

113920



Gen 4

A3/S3/TT/Altea/Octavia/Golf: 08-

0BR

Price: 8265 SEK


Haldex unit
Prodnr:

113927



Gen 4

Passat/Tiguan: 08-

0AY/0BS

Price: 8265 SEK


Haldex unit
Prodnr:

114211



Gen 4

RS3/TT RS: 09-

0BY

Price: 8265 SEK


Haldex unit
Prodnr:

115105



Gen 4

RS3/TT RS: 09-

0BY, Race

Price: 7115 SEK


Haldex unit
Prodnr:

115111



Gen 4

Passat/Tiguan: 08-

0AY/0BS, Race

Price: 7115 SEK


Haldex unit
Prodnr:

115112



Gen 4

A3/S3/TT/Altea/Octavia/Golf: 08-

0BR, Race

Price: 7115 SEK