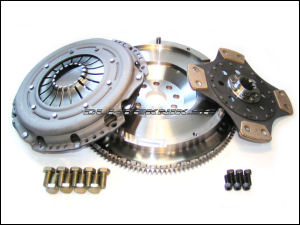 Clutches / Clutch kits

High power puts stress on the clutch which job is to transfer the engines torque to the transmission. Too much load makes the clutch slip and you can not use the engines power anymore. Even a standard engine finally wear the clutch down and sooner or later need a new one.

Our clutch kits are adapted to handle everything from stock power and torque to pure racing engines, and are therefore available in several different performances. All kits are specified with maximum torque the clutch can handle. But there is also some margin on these specifications to withstand "torque bumps" that can occur.

Most of our kits consist of flywheel, pressure plate, clutch disc, release bearing and bolts.

Many of our kits therefore replaces the so often poor dual mass flywheel with a durably single mass lightweight flywheel in chrome moly steel.*

A lightweight flywheel also gives less rotating mass and thus a quicker revability which makes your car accelerate quicker.

All clutch parts comes from Sachs and the flywheels are our own special flywheels in chrome moly steel (unless otherwise is stated).

PCS stands for Performance Clutch Systems, which means that the product are designed to withstand higher power/torque than standard. This is NOT rebuilt/painted original pressure plates or discs, but performance parts from the very beginning!

For more info, see the PDF data sheet in the link: PCS

In all kits where a PCS sport clutch is used we measure the pressure plates clamp load and working travel. We can then if necessary shim the preload for maximum pressure and optimal life-span. This is a service we provide for free since we consider this should always be included when buying a clutch kit of quality!

* = replacement of dual mass flywheel may cause added gear noise.
Clutch kit
Prodnr:

883089 000150



~530Nm, torsion organic

MSRP: 13464 SEK excl. VAT
Price: 10772 SEK excl. VAT

Clutch kit
Prodnr:

883089 000151



~600Nm, torsion sintered

MSRP: 14000 SEK excl. VAT
Price: 11196 SEK excl. VAT

Master Cylinder
Prodnr:

6284 605 068



Standard

MSRP: 1736 SEK excl. VAT
Price: 884 SEK excl. VAT