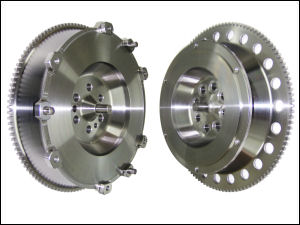 Steel flywheels

These flywheels are made of high tensile chrome-moly steel and are of single mass design. With single mass means the flywheel is made in one part, from one piece of steel, also known as billet.

Since the ring gear is integrated in the flywheel there is no need to move over a pressfitted or welded ring gear from your old flywheel. The risk that the integrated ring gear could become loose or unbalance is therefore non-existent.

The disc surface is of course also integrated, unlike other manufacturers solutions with a screwed disc surface of other material besides the flywheel.

Depending on model also the ignition trigger and sleeve for mounting a pilot bearing for the gearbox input shaft is integrated in the flywheel design.

In some cases where the flywheel has to be both thick and light it must however be manufactured in two halves. These halves are then screwed together with high quality bolts for a high strength screw joint and with guide pins for perfect centering.

All the flywheels are designed given high heat resistance, minimal breaking points and beneficial weight placement. The flywheels are then manufactured in modern CNC machines for highest precision and are dynamic balanced to minimize vibrations and bearing wear.

Generally are all flywheels made lighter then standard, since a lightweight flywheel have low rotating mass which gives a quicker revving engine and therefore a faster acceleration.

Many of our flywheels also replaces the unreliable original dual mass flywheels mounted to many cars from the mid 90s.

NOTE! Read what a change from dual to single mass flywheel can imply via the link below. NOTE!

Dual vs single mass

Please contact us if you can not find what you are looking for, or if you have a request for a flywheel to another model!
Flywheel
Prodnr:

DLI-060850



Cooper D

Gemini

Standard

Price: 4716 SEK excl. VAT


Flywheel
Prodnr:

DLI-060850-184



Cooper D

Gemini

184mm motorsport

Price: 5128 SEK excl. VAT


Flywheel
Prodnr:

DLI-060975



Cooper S: 02-07

W11B16A

Standard

Price: 5072 SEK excl. VAT


Flywheel
Prodnr:

DLI-060975-140



Cooper S: 02-07

W11B16A

140mm motorsport

Price: 5180 SEK excl. VAT


Flywheel
Prodnr:

DLI-060975-184



Cooper S: 02-07

W11B16A

184mm motorsport

Price: 5072 SEK excl. VAT


Flywheel
Prodnr:

DLI-061257



Cooper S: 06-14

N14/N18B16A

Standard

Price: 4440 SEK excl. VAT


Flywheel
Prodnr:

DLI-061257-140



Cooper S: 06-14

N14B16A

140mm motorsport

Price: 5180 SEK excl. VAT


Flywheel
Prodnr:

DLI-061926



Cooper Clubman

9HZ (DV6TED4), W16D16

Standard

Price: 4288 SEK excl. VAT


Flywheel
Prodnr:

DLI-063067



Cooper S: 14-

B48A20A

Standard, ~12kg

Price: On request


Flywheel
Prodnr:

DLI-063067-184



Cooper S: 14-

B48A20A

184mm motorsport

Price: On request


Flywheel
Prodnr:

DLI-063067L



Cooper S: 14-

B48A20A

Standard, ~6kg

Price: On request