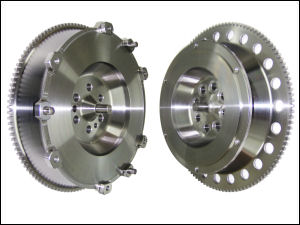 Steel flywheels

These flywheels are made of high tensile chrome moly steel and are of single mass design. With single mass means the flywheel is made in one part, from one slab, also known as billet.

Since the ring gear, and depending on model also the trigger, is integrated in the flywheel there are no bolted or welded parts that can come loose or create imbalance.

Many flywheels therefore replaces the original dual mass flywheels, which so often can break and create vibrations and noise. When switching to a single-mass flywheel you eliminate these problems.*


All the flywheels are designed given high heat resistance, minimal breaking points and beneficial weight placement. They are then manufactured in modern CNC machines for highest precision. Finally the flywheels are dynamic balanced to minimize vibrations and bearing wear.

Each flywheel have a weight that is tailored depending on model and engine type. Overall, are all the flywheels lighter then standard, since a lightweight flywheel have a small rotating mass which results in quicker revving engine and therefore a faster acceleration.

Key features

# Chrome moly steel for best strength.
# Single mass design for maximum durability.
# Manufactured in modern CNC machines for perfect result.
# Dynamically balanced to minimize vibrations and bearing wear.
# Adapted for standard or racing clutches.
# Lightweight design for less rotating mass.
# Integrated ring gear and trigger (depending on model).

You can also find many of the flywheels below listed per model in the category "Clutches". We can often also offer OEM dual mass flywheels if wanted.

* = replacement of dual mass flywheel may however cause added gear noise.

Cant find what you are looking for, or do you have request for a flywheel to another model? Contact us!
Flywheel
Prodnr:

DLI-060662



9-5: 98-

2,0T/2,3T

Standard

Price: 4500 SEK


Flywheel
Prodnr:

DLI-060667



900/9-3: 94-03

2,0i/2,0T

Standard

Price: 3970 SEK


Flywheel
Prodnr:

DLI-060676



9000 2,0 -94

Standard

Price: 3930 SEK


Flywheel
Prodnr:

DLI-060676-184



9000

184mm motorsport

Price: 4125 SEK


Flywheel
Prodnr:

DLI-060849



9000: -94

Standard 228mm

Price: 3970 SEK


Flywheel
Prodnr:

DLI-060910



900 OG

Standard

Price: 3870 SEK


Flywheel
Prodnr:

DLI-060910-184



900 OG

184mm motorsport

Price: 4695 SEK


Flywheel
Prodnr:

DLI-060973



9000 2,3T 91-93

Standard

Price: 3910 SEK


Flywheel
Prodnr:

DLI-061241



9-3/9-5 1,9TID

Standard

Price: 4695 SEK


Flywheel
Prodnr:

DLI-062084



9-3: 05-08

B284L, B284R

Standard

Price: 4895 SEK